Mars is live - thanks to the Lempel Ziv algorithm for lossless data compression developed at Technion.
"The video compression on Curiosity rover is indeed a version of the LOCO system that was developed by
Marcelo Weinberger and Gadiel Seroussi -both are Technion graduates," says Technion Distinguishe Prof.
Jacob Ziv
,
Images sent back to Earth from the
Curiosity
rover are using a version of the LOCO system for video compression developed by Technion alumni, Drs Marcelo Weinberger and Gadiel Seroussi. Weinberger and Seroussi's doctoral advisors were Profs. Abraham Lempel and Jacob Ziv, developers of the Lempel-Ziv coding algorithm – a world standard for compressed information transmission.
NASA's groundbreaking mission seeks to determine whether Mars is or has ever been capable of supporting life and to assess the planet's habitability for future human missions.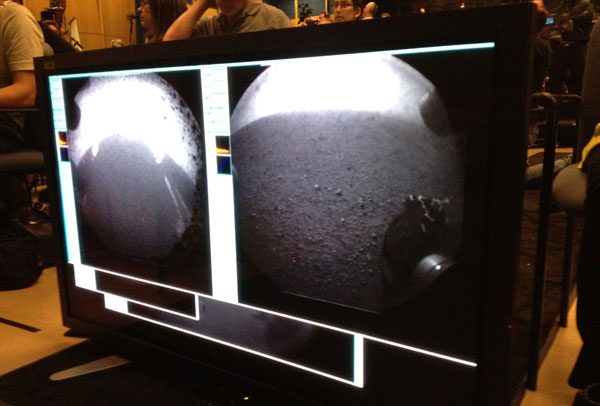 To maximize the number of images acquired during the mission, virtually all image data will be compressed by the rover CPU (using either lossy or lossless compression) prior to placement into the telemetry stream. To perform this task the rovers will utilize a software implementation of the JPL-developed ICER wavelet-based image compressor [Kiely and Klimesh, 2003], capable of providing lossy and lossless compression. In cases where lossless compression is desired and speed is particularly important, compression will be performed (in software) by a modified version of the low-complexity (LOCO) lossless image compression algorithm [Klimesh et al., 2001; Weinberger et al., 1996]. The MER mission is utilizing state of the art image compression technology by flying compressors that deliver compression effectiveness comparable to that achieved by the JPEG- 2000 image compression standard [Adams, 2001], but with lower computational complexity [Kiely and Klimesh, 2003].
Did you know?
Mars's average distance from the Sun is roughly 230 million km (1.5 AU, or 143 million miles) and its orbital period is 687 (Earth) days as depicted by the red trail, with Earth's orbit shown in blue.(Animation)